When it comes to precision bolting tools, you can't go wrong with a pneumatic torque wrench. It's a reliable tool designed to provide fast and safe fastening in controlled bolting situations.
And it's tough enough to withstand even the harshest job site conditions, which is good news for those working in the oil & gas, mining, and power generation industries.
If you're looking for a bolting tool with excellent accuracy and repeatability, look no further than this masterfully designed wrench.
So, why is the pneumatic torque wrench worth all this hype? First, the wrench features an air-driven motor, which provides consistent high-speed rotations that allow for a constant torque output. Plus, the coupling of an air motor with a planetary gearbox offers a much faster operation that doesn't compromise safety.
Unlike your regular impact wrench, the pneumatic wrench is driven by continuous gearing, which minimizes noise to almost zero, and you don't have to deal with hazardous hammering.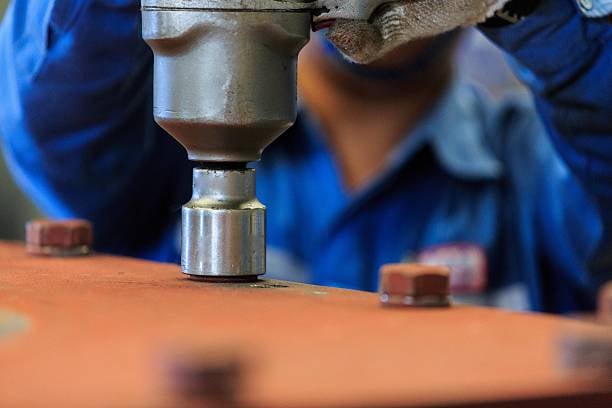 Features and Benefits of the Pneumatic Torque Wrench
Thinking of adding the pneumatic wrench to your toolbox? Here are some features that might just convince you to buy it.
High-ratio gearbox that converts fast-moving air into a strong, slow movement for high accuracy

Low friction gearbox which reduces wear while maximizing uptime

Low vibration design which reduces the risk of injuries and operator fatigue

Quiet bolting operations

Standard reaction arm that can be customized to your liking

User-friendly, ergonomic trigger that allows for easy tightening and loosening while reducing injury risk
From the above features, it's easy to tell that the pneumatic torque wrench is the ideal tool for any application that requires fast and precise controlled bolting.
The Pneumatic Torque Wrench In Industry
As mentioned, the pneumatic torque wrench is ideal in fast-paced industries that feature high-performance machinery. Such elaborate systems of moving parts often require very tight tolerances. Over-tightening bolts can be as detrimental as under-tightening. A pneumatic torque wrench works fast and enables you to provide just the right amount of torque, which eliminates guesswork on your part.
The truth is, hydraulic, electric, and manual alternatives just can't compare. A pneumatic system allows for easy, safe, and reliable bolting even in applications with a high volume of fastenings. A pneumatic torque wrench is the best bolting tool in both DIY and large-scale industrial settings.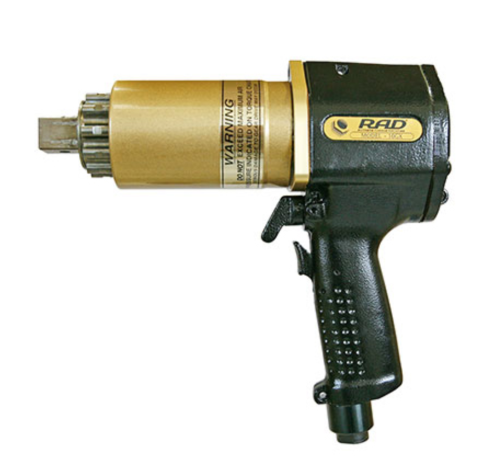 Not Too Loose, Not Too Tight – Get It Right With The Pneumatic Torque Wrench
When choosing a torque wrench, there are two vital factors to consider: the quality and accuracy of the tool itself. You'll probably have to choose between shut-off nutrunners and stall torque nutrunners. A shut-off nutrunner shuts itself off once the set torque is reached. It allows for the same accurate bolting regardless of the operator or their level of experience.
Now, the stall torque nutrunner works a little differently. The torque delivered varies depending on the air pressure. So, you'll have to set up the right air pressure in order to apply the corresponding torque. The advantage of this tool lies in its versatility. Since torque load depends on air pressure, it offers a wide range of torque.
Still, the right tool will depend on what you need it for. For instance, the shut-off nutrunner is ideal in high-frequency situations. A stall torque nutrunner, on the other hand, works best in high-performance operations like those common in the wind-power generation industry. A stall torque nutrunner will provide a higher torque range and ensure user comfort.
All in all, a pneumatic torque wrench will be an invaluable addition to your toolbox. An air impact wrench will definitely make your work easier by providing repeatability in applications that require fast, accurate bolting. Contact Maxpro Corp. for all of your pneumatic torque wrench needs.